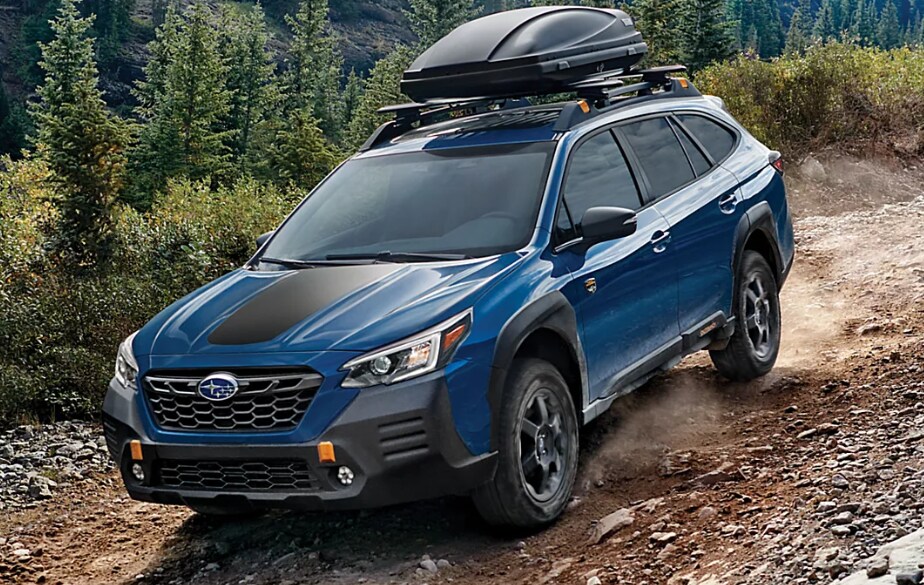 Find the right SUV for you and your family here at Bill Bryan Subaru: Compare the Subaru Outback to the Competition
Let's face it folks, SUVs are everywhere these days. In fact, the SUV segment is easily one of the most dynamic segments in the auto industry today. These capable, sturdy vehicles are a clear choice for drivers here in Leesburg, FL and nearby Clermont, Mt. Dora, and Fruitland Park, FL who are always on the go and need a vehicle that can keep us with their active lifestyles. Now, here at Bill Bryan Subaru, we've always prided ourselves on being one of the premier resources for new Subaru vehicles to drivers all over Florida, and we're happy to say that our new Subaru Outback models have seen an exponential increase in popularity year after year. That said, we know that if you're interested in the new 2022 Subaru Outback, you're likely keeping a close eye on the competition as well. Luckily, so are we here at Bill Bryan Subaru. In fact, we've put together a competitive analysis to help you understand how our new Subaru Outback SUVs compare to competitors like the Toyota Highlander, Buick Enclave, Volkswagen Golf SportWagen, and Nissan Pathfinder.
Capability
If you're a fan of the Subaru brand as we all are here at Bill Bryan Subaru, you know that Subaru's reputation for building capable cars is practically unmatched by any other brand on the market today, and in no model is that more evident than the new Subaru Outback. This SUV is practically purpose-built for adventuring outdoors, and with so much to do and see around Leesburg, FL and nearby Clermont, Mt. Dora, and Fruitland Park, FL, the Subaru Outback makes a truly compelling value proposition. With 8.7-inches of ground clearance, the Subaru Outback is adept at traversing uneven terrain, and with its standard Subaru Symmetrical All-Wheel Drive, no surface is too slippery for it to handle with confidence. In addition, the efficient 175-hp SUBARU BOXER® engine included in the Outback delivers up to 32 mpg highway, making the 2022 Subaru Outback the most fuel efficient vehicle in its class*! These features make it perfect for those frequently travel off the beaten path and down well-worn dirt roads to reach their favorite camping and fishing locations around Florida. Unfortunately for competitors like the Toyota Highlander, Volkswagen Golf SportWagen, and Nissan Pathfinder, all-wheel drive is not standard. The Buick Enclave and Nissan Pathfinder's ground clearance is expectedly low to boot, making them much less capable for those who frequently travel on any terrain rougher than a freshly paved road.
Utility
Luggage. Cargo. Stuff. Whatever you call it, everyone has it, and occasionally, you need to take it on the road. And whether it's something as simple as a cooler and beach blankets for a fun day out at the ocean with family, or a big flat screen TV you're bringing home from the store to grace your new den, you'll want a vehicle that can confidently haul it all. Fortunately, when it comes to confidently hauling, there's no SUV better equipped than the Subaru Outback. In fact, with up to 73.3 cubic-feet of cargo space, the Subaru Outback easily bests the Volkswagen Golf SportWagen in carrying capacity.
What's more, the Subaru Outback doesn't just carry more inside, it also carries more outside as well. That's right folks, when it comes to towing, the Subaru Outback is the best of the bunch…primarily because the rest of the bunch doesn't really tow at all. The Subaru Outback can tow up to 3,000 pounds when properly equipped, making it great for hitching up with your favorite recreational vehicles and heading out for a day of riding. The Outback also features roof rails with integrated crossbars that fold away when not in use. These rails have the ability to haul bikes, kayaks, and skis!  By comparison, even in their most powerful forms, the Buick Enclave and Volkswagen Golf SportWagen aren't really equipped for towing at all.
Comfort and Safety
For many families here in Leesburg, FL and nearby Clermont, Mt. Dora, and Fruitland Park, FL, comfort and peace of mind on the road are the two most important things a car can provide. Luckily, the Subaru Outback provides both in spades. With its well-crafted, well-proportioned cabin, the Subaru Outback's interior is a great place to inhabit on longer trips, thanks in large part to the fact that is has plenty of front and rear leg room. In addition, the Subaru Outback boasts some impressive safety credentials, including the available Subaru Starlink Safety and Security system and Steering Responsive Headlights, both of which played a big role in it winning the IIHS Top Safety Pick+ award in 2021.
Visit us at Bill Bryan Subaru to test drive the Subaru Outback and compare for yourself today!
As we said before, we've done our homework on the Subaru Outback and the competition, and we think the exceptional features and design of this iconic SUV speak for themselves. That said, we don't just want you to take our word for it. We know that shopping for your next car is a very personal experience, and we want to give you the chance to get up close and personal with the new Subaru Outback at our Leesburg, FL Subaru dealership and decide for yourself. Luckily, it's all too easy to do so. Bill Bryan Subaru is conveniently located close by to the communities of Clermont, Mt. Dora, and Fruitland Park, FL, and with our competitive offers on Subaru financing, there's no one better positioned to get you behind the wheel of a new Subaru Outback than we are. Stop in to test drive the Subaru Outback and see why so many Florida drivers love this SUV for yourself today!
*Based on the EPA combined city/highway estimate of fuel economy for MY2018 vehicles within the Non-Luxury Midsize Utility segment. Segment definition supplied by IHS Markit.
Make an Inquiry
* Indicates a required field