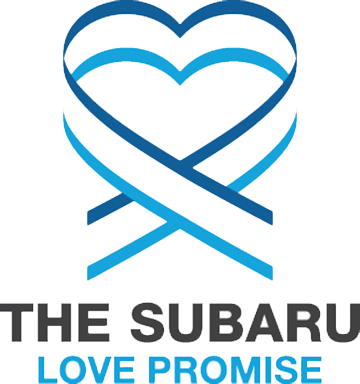 What is the Subaru Love Promise?
Subaru and our retailers believe in making the world a better place and the Subaru Love Promise is our vision of respecting all people. This is our commitment to show love and respect to our customers and to work to make a positive impact in the world.
How is Bill Bryan Subaru dedicated locally to the Love Promise?
Our Love Promise can be seen in various partnerships with local charities and non-profits. We're grateful for the opportunity, not only to be a part of our community, but to serve it as well.
South Lake Animal League, ASPCA, , , Toys for Tots
Treadway Elementary School, Tavares Middle School, Leesburg High School, AdoptAClassroom.org
Leukemia and Lymphoma Society
Love Promise Stories from Bill Bryan Subaru
Subaru and Bill Bryan Subaru believe in making a positive impact on the communities in which we live and work. We uphold that belief through our Love Promise Community Commitment. Every month, we select inspiring stories from customers and partners from around our area who strive to support our collective commitment and feature them here
Serving our Community - Deb M
Subaru Love Promise Story By: Deb Munini Schwartz for The Animal League & Bill Bryan Subaru 10/21/2021 The Animal League has been a shelter partner with Bill Bryan Subaru in Leesburg, FL for many years. They provide us a safe and comfortable environment to introduce adoptable pets to potential adopters. We create fun themes for the events depending on the time of year: Share the Love for Valentines Day, Pet Photos with Santa for Christmas, Certified Pre-Owned Pets in June, etc. They also help us host free shot clinics, donation drives and more. In addition to showing off adoptable pets at Bill Bryan Subaru, we get to meet the people of our community and talk to them about adopting an animal, flea/tick/heartworm prevention, and the health benefits of getting their pets spayed or neutered. I even had a conversation with a lady about declawing cats, the health issues that can arise from declawing and easy, safe alternatives. Connecting with the community and customer service are integral in the mission of The Animal League and Bill Bryan Subaru. The Animal League can be pretty picky when it comes to where we go for adoption events. But whenever Bill Bryan Subaru shows up on the schedule, our volunteers jump at the chance to sign up and fill every open spot quickly. And that's because the staff at Bill Bryan Subaru is so helpful, friendly, and generous. They always have tables and chairs set up and ready for us to use for our events. For bigger events, they provide a tent, fans, water, snacks, dog treats, anything we need to make us comfortable and assure a successful event. Sometimes it's hard to tell who's having a better time: the volunteers or the dogs. We are proud to say that Bill Bryan Subaru is our partner in helping find homes for pets in need. We look forward to Sharing The Love with Subaru for many years to come.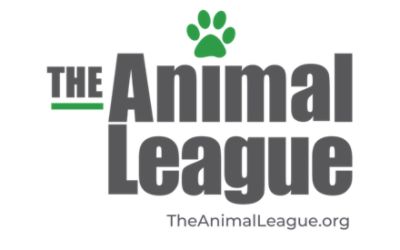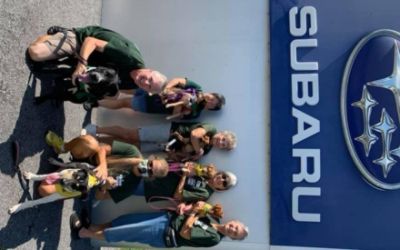 ---
Above and Beyond! - Bill Bryan Subaru - Doreen B
The Animal League is a registered non-profit charity helping homeless dogs and cats and the people who love them for over 30 years. We are a community partner with Bill Bryan Subaru and we can not sing higher praises for their team's commitment to helping not only rescue pets but the people in our community. Joe and the team at Bill Bryan Subaru allow us to hold adoption events at the dealership and often cover the fee to promote pet adoption. Everyone at the dealership is extremely welcoming and friendly. You can tell that they truly care about pets and their customers. You won't find a more genuine team; they really want their customers to be happy and put the effort in to make that happen. We have witnessed it! As Bill Bryan Subaru has chosen us for the annual Share the Love event, we have been able to add roofing to our huge dog play yard at the shelter so the dogs have a shaded area to romp; this is so essential in Florida. We were also able to make major improvements to our New Hope Center, the area of our campus where new homeless pets come in to be seen by our veterinarian and helped both physically and mentally to move forward to new, happier lives. We are extremely grateful to Subaru, Bill Bryan, Joe Goguen and his team for everything they do for animals and people and we are excited to create many more happy pet/people matches in the new year!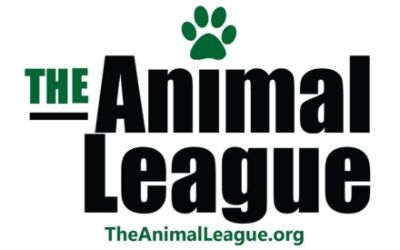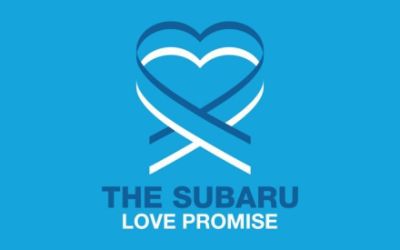 ---
Bill Bryan Subaru Blanket Delivery - Megan R
On June 28th and July 19th, 2019, the North and Central Florida Chapter of The Leukemia & Lymphoma Society and Bill Bryan Subaru had the pleasure of delivering blankets and arts & craft kits to Florida Cancer Specialists Infusion Center and AdventHealth Waterman Cancer Center, as part of the Subaru Loves To Care program. These comforting gifts were accompanied by personalized messages of hope written by the customers and staff of Bill Bryan Subaru. This incredible act of generosity was warmly received by the Florida Cancer Specialists and AdventHealth staff who were thrilled to help distribute these comforting gifts to their patients. LLS is proud to partner with Subaru to spread hope, love and warmth to those fighting cancer, across the country and right here in the North and Central Florida community.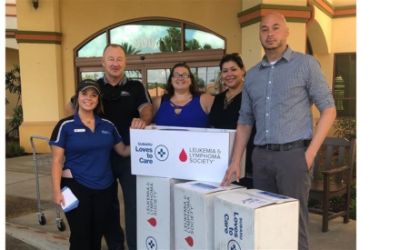 ---
Bill Bryan Subaru's Love Promise. - Rebekah M
Bill Bryan Subaru of Leesburg, FL and Subaru of America presented a check for $14,256 to local pet rescue The Animal League, formerly known as South Lake Animal League, on Thursday, May 16th. Bill Bryan Automotive Group donated an additional $5,744 that same day. Totaling $20,000!Doreen Baker, President of The Animal League said "We are so grateful for this generous donation. It's people like everyone here at Bill Bryan Subaru that help us be able to continue our mission." The Animal League is an animal shelter and so much more. The mission of The Animal League is to enhance the lives of animals and people in our communities through education, awareness, adoption, and compassion. Bill Bryan Subaru makes community involvement a top priority and not only on a business level. Joe Goguen, General Manager of Bill Bryan Subaru adopted two boxers from The Animal League, Brewster and Ginger. Brewster is their mascot and has since become a local celebrity being featured in their television advertising commercials.Event Coordinator Rebekah Mahlan and multiple other employees have also adopted from The Animal League's multiple events held at Bill Bryan Subaru on a Bi-monthly basis. "It's much more than adoption." Said Rebekah, "It's giving back to the community who has supported us so well and helping to save lives in the process. There is a bigger picture here. Bill Bryan Subaru is making a difference and I'm proud to be a part of it." "We are honored to be able to help local charities through donations and hosting events that raise awareness for them" Said Joe Goguen, General Manager of Bill Bryan Subaru. "When you buy a vehicle at Bill Bryan Subaru you can have peace of mind that your purchase is part of a larger movement which is our commitment to the betterment of our local community." For more information on Bill Bryan Subaru visit www.BillBryanSubaru.com. For more information on the Animal League visit www.theanimalleague.org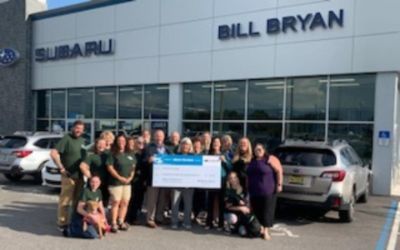 ---
Subaru love the Earth Recycling campaign! - Rebekah S
Bill Bryan Subaru teamed up with Multiple local schools and the Crayola company to recycle dead markers! For every 100 markers donated, Bill Bryan Subaru donated 10.00 to that school. Bill Bryan Subaru also reaches out to the local community to drop off their markers and pick the school that they would be donating to! All markers were shipped back to The Crayola company to be recycled!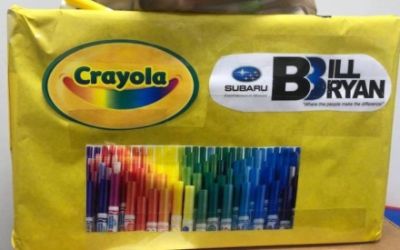 ---
Blanket donations - Miriam S
Bill Bryan Subaru and their staff delivered blankets to patients suffering from cancer. They took the time to speak with us and gave us a card of encouragement. We are so thankful that Bill Bryan Subaru stopped by and took the time out to do something kind for others. The smiles on the faces of those who often feel forgotten during their fight were priceless!
---
Adopting Chaos - Kyle M
Bill Bryan Subaru has adoption events every other month. I was lucky enough to attend one of these events and adopt our family dog, Chaos directly from Bill Bryan Subaru's location from The Animal League. My family is so grateful for the services that they provide in the community and for covering Chaos' adoption fee! We hope to be a long time Subaru customers thanks to their generosity.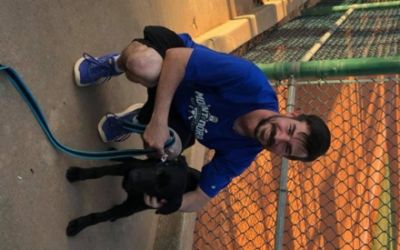 ---
Free Rabies Shots and low cost pet wellness clinic - Bekka M
Bill Bryan Subaru hosted Brewster's adoption celebration on 3/30/2019! Complete with a low-cost wellness clinic and FREE Rabies shots. This clinic gave the community the opportunity for those in need to get much needed medical attention for their pets. They also threw a party for the dogs in attendance! Dog-friendly cupcakes, dog tags, treat bags, etc! Bill Bryan Subaru is a shining example of what community outreach should look like. Thank you Bill Bryan Subaru!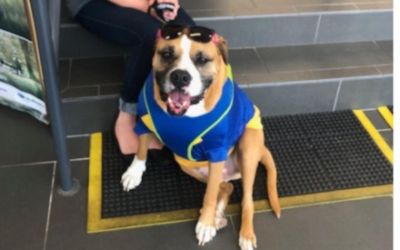 ---
Bill Bryan Subaru: Partnering with schools - Amy O
Bill Bryan understands the importance of supporting our local schools. Our children are our future and Bill Bryan is always happy to invest their time into the students of Treadway Elementary. This past October they sponsored our Treadway K-Kids car wash and bake sale. Profits were used to buy holiday gifts for students in need. Bill Bryan also sponsors our vegetable garden. Through this project, students learn how to grow and care for organic vegetables. Additionally, at Treadway, we strive to introduce students to a variety of future career options and opportunities. We appreciate Bill Bryan presenting at our school-wide career day every year!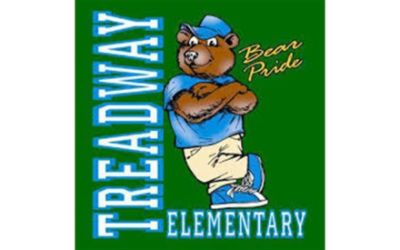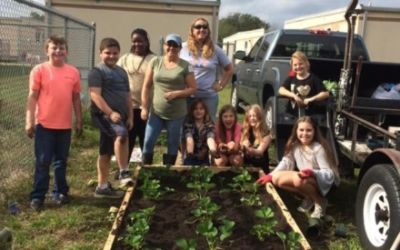 ---
Bill Bryan: Helped Tavares Middle Robotics - Christopher C
Tavares Middle School hosted their first ever Vex Robotics event in the 2017-18 season, and one of the main concerns after the event was the inability for spectators to see the digital timer and standing from across the gym. After hearing about this dilemma, Bill Bryan Subaru, donated an inflatable project screen to our program. At our event this year for the 2018-19 season, I heard many compliments on the improvement of our presentation and this greatly due to this screen. Bill Bryan Subaru continues to support our Robotics program. For the first time in school history, Tavares Middle qualified multiple teams to the Middle School VRC State Championship in Miami, FL and one team to the Middle School VEX IQ State Championship in Tampa, FL. This last team also won the State STEM Research project State Championship and is going to VEX Worlds in Louisville, KY. I look forward to our continued partnership and having as many students as possible learn and experience STEM as part of their education.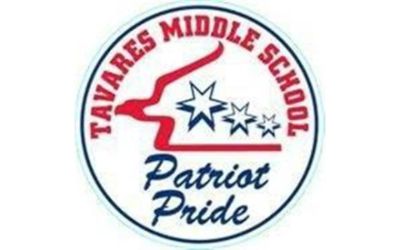 ---