The 2023 Subaru Love Promise Community Commitment Award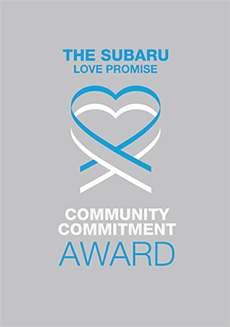 We've been nationally recognized for our dedication to our community and the Subaru Love Promise.
We're honored to receive the 2023 Subaru Love Promise Community Commitment Award. This award nationally recognizes Subaru retailers who are making the world a better place while demonstrating an outstanding commitment to supporting passions and causes in local communities. These efforts are focused in important areas such as the environment, community, health, education, and pets.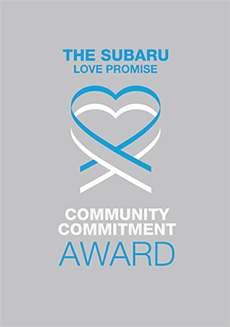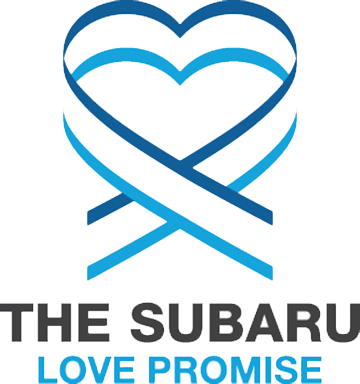 What is the Subaru Love Promise?
Subaru and our retailers believe in making the world a better place and the Subaru Love Promise is our vision of respecting all people. This is our commitment to show love and respect to our customers and to work to make a positive impact in the world.
How is Bill Bryan Subaru dedicated locally to the Love Promise?
Our Love Promise can be seen in various partnerships with local charities and non-profits. We're grateful for the opportunity, not only to be a part of our community, but to serve it as well.
South Lake Animal League, ASPCA, Toys for Tots
Treadway Elementary School, Tavares Middle School, Leesburg High School, AdoptAClassroom.org
Leukemia and Lymphoma Society
Love Promise Stories from Bill Bryan Subaru
Subaru and Bill Bryan Subaru believe in making a positive impact on the communities in which we live and work. We uphold that belief through our Love Promise Community Commitment. Every month, we select inspiring stories from customers and partners from around our area who strive to support our collective commitment and feature them here
Subaru Loves to Help! - Bill Bryan S
It is with great honor to announce our Subaru Loves to Help® partner, Haven of Lake and Sumter Counties Inc. This organization has been serving victims of Domestic Violence & Sexual Assault since 1977. They have done so much for our community, we knew it was time for us to help them! They were a perfect match for our Subaru Loves to Help Sock and Blanket donations! Thank you Haven of Lake and Sumter for letting us be a part of something impactfully outstanding!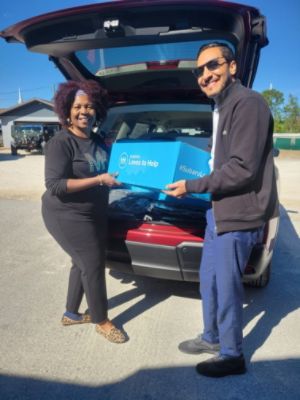 ---
Carving a Beautiful Friendship - Bill B
Mr. Tohlman, a customer of Mathew Carillio, salesman, had an amazing connection. Although being a customer/salesman duo, these gentlemen had more in common than they thought. While being here, at Bill Bryan Subaru, both gentlemen reminisced on Veteran experiences. Meeting a fellow Marine meant a great deal to Mr. Tohlman. His experience with meeting Mathew meant so much to him that he generously gifted this masterpiece to him, which he had created for his 91st birthday! Thank you kindly for your service Mr. Tohlman and Happy 91st Birthday!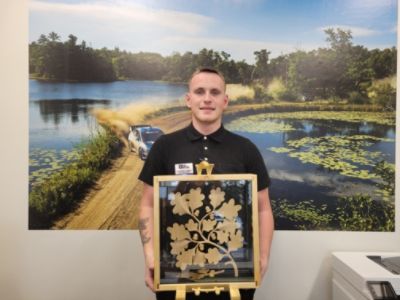 ---
Proud Sponsors of Gentle Carousel Therapy Horses! - Bill Bryan S
Bill Bryan Subaru is thrilled to announce our partnership in supporting such a great program with Gentle Carousel Therapy Horses! This Non-Profit Charity comes with such a great cause/impact in not only our community but also communities all over the nation! Tiny horses visit thousands of adults and children each year inside hospitals, hospice programs, elementary reading programs, and with families, veterans and first responders who have experienced traumatic events. We had the honor of sponsoring their documentary film premiere of Hero Horse: A Magical True Story back on December 2022. Thank you Gentle Carousel Therapy Horses for letting Bill Bryan Subaru show that love truly Means Being More Than Just a Car Company!
---
Bill Bryan Subaru Sponsors Local Students to Attend State Leadership Conference - Abhik S
Dear Bill Bryan Subaru, On behalf of the Leesburg High School Key Club, we would like to extend our deepest gratitude for sponsoring one of our student leaders to attend the Florida Key Club District Education and Leadership Conference in Daytona Beach, FL from April 13 - 16, 2023. You have given one student the opportunity to gain new leadership skills, grow as an individual, develop professionalism skills, and gain new opportunities to network with other great student leaders from around the state. We thank you for your continued support for Leesburg High School and making this dream come true. Your sponsorship is directly building a brighter future for the world by supporting young and ambitious leaders. Not only will these students be enriched by this educational event, they will represent Leesburg with pride, showing the great potential that can be bred within our mighty city. We greatly appreciate your generous sponsorship for your local Leesburg Key Club students to attend this educational event. Thank you, Abhik Shil President of Leesburg Key Club Victoria Scurti Vice-President of Leesburg Key Club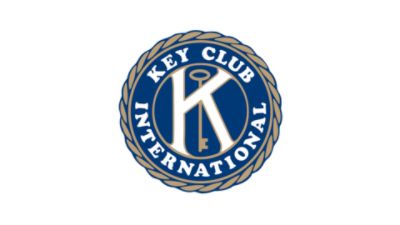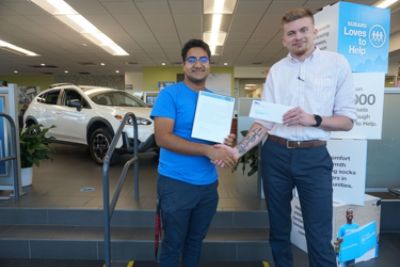 ---
The Animal League Shares The Love With Bill Bryan Subaru - Deb M
The Animal League has been a shelter partner with Bill Bryan Subaru in Leesburg, FL for many years. They provide us a safe and comfortable environment to introduce adoptable pets to potential adopters. This year, we hosted a "Make a Dogs Day" event with our Subaru partner at the dealership located in Leesburg, FL on Saturday, October 22nd. Six dedicated volunteers with The Animal League were in attendance to show off six adorable, adoptable dogs. Everyone had a good time meeting the staff, wearing Halloween costumes and eating yummy pup cups. Several members of the community stopped by to spend time with the dogs and learn more about The Animal League and our mission. We even talked to a few people who are interested in fostering dogs. Fostering is so rewarding. It's the best way to help prepare an animal for their furever home. Our friends at Bill Bryan Subaru had a special surprise for us. They had a name tag engraver! Anyone who stopped by the dealership that day could make a name tag for their furry friends. Bill Bryan Subaru Team Lead, Elvia Guerrero made sure that all of The Animal League adorable adoptables in attendance went home with a name tag of their very own. We are proud to say that Bill Bryan Subaru is our partner in helping find homes for pets in need. Subaru really does LOVE PETS and it shows.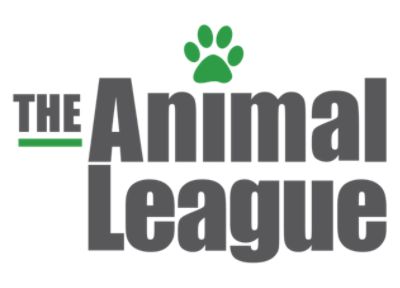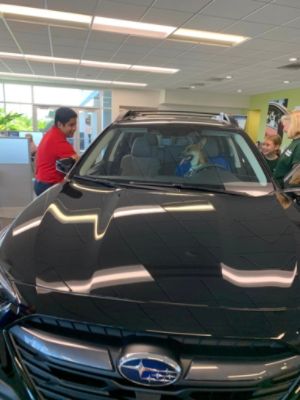 ---
Bill Bryan Subaru Appreciates Teachers! - Elvia P
We are excited to announce our partnered school Treadway Elementary! We had a wonderful time surprising our local teachers with our Subaru Loves to Learn Supply Kits and Subaru Love Bus! We want to thank Treadway Elementary for having us be a part of such a special moment this year. Teaching is a work of HEART, we thank you for your dedication and hard work! You are greatly appreciated!
---
Bill Bryan Subaru rose to the occasion!! - Monica B
Bill Bryan Subaru once again rose to the occasion so that Toys For Tots can continue to fulfill the dreams of thousands of children during the holiday season. This past year, with the help of Bill Bryan, the local Toys For Tots Campaign collected over 46,000 toys & was able to help over 14,000 children in Lake & Sumter counties.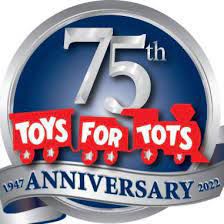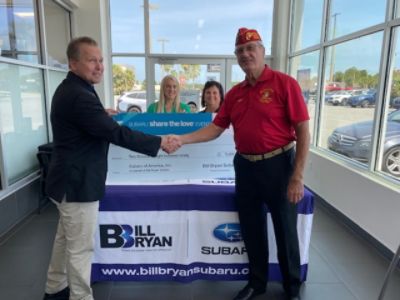 ---
Subaru and adoptable animals go hand in hand - Deb M
The Animal League and Bill Bryan Subaru have been friends for many years. All of us at The Animal League are grateful for all of the support we have received over the years from Bill Bryan Subaru. We have partnered for adoption events, vaccine clinics, holiday parades and much more. The staff is always happy to see us show up with adorable adoptable dogs and our volunteers love going to events at their Leesburg, FL location. Bill Bryan Subaru has helped collect not only monetary donations for The Animal League, but also food and other much needed supplies. We recently received a donation for $7,158 from Bill Bryan Subaru which will help us continue our life saving efforts. We appreciate Bill Bryan Subaru and all they do for our community and for their continued support of The Animal League.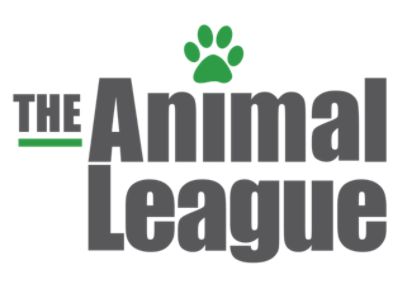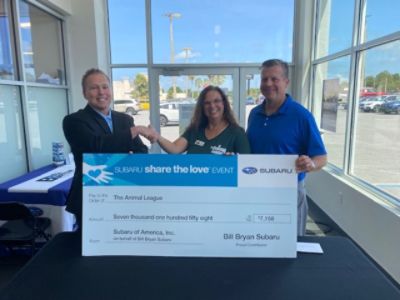 ---
Serving our Community - Deb M
Subaru Love Promise Story By: Deb Munini Schwartz for The Animal League & Bill Bryan Subaru 10/21/2021 The Animal League has been a shelter partner with Bill Bryan Subaru in Leesburg, FL for many years. They provide us a safe and comfortable environment to introduce adoptable pets to potential adopters. We create fun themes for the events depending on the time of year: Share the Love for Valentines Day, Pet Photos with Santa for Christmas, Certified Pre-Owned Pets in June, etc. They also help us host free shot clinics, donation drives and more. In addition to showing off adoptable pets at Bill Bryan Subaru, we get to meet the people of our community and talk to them about adopting an animal, flea/tick/heartworm prevention, and the health benefits of getting their pets spayed or neutered. I even had a conversation with a lady about declawing cats, the health issues that can arise from declawing and easy, safe alternatives. Connecting with the community and customer service are integral in the mission of The Animal League and Bill Bryan Subaru. The Animal League can be pretty picky when it comes to where we go for adoption events. But whenever Bill Bryan Subaru shows up on the schedule, our volunteers jump at the chance to sign up and fill every open spot quickly. And that's because the staff at Bill Bryan Subaru is so helpful, friendly, and generous. They always have tables and chairs set up and ready for us to use for our events. For bigger events, they provide a tent, fans, water, snacks, dog treats, anything we need to make us comfortable and assure a successful event. Sometimes it's hard to tell who's having a better time: the volunteers or the dogs. We are proud to say that Bill Bryan Subaru is our partner in helping find homes for pets in need. We look forward to Sharing The Love with Subaru for many years to come.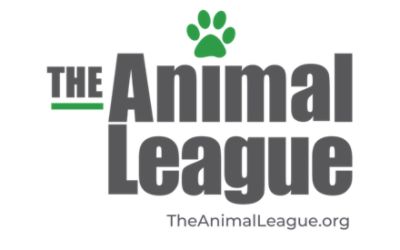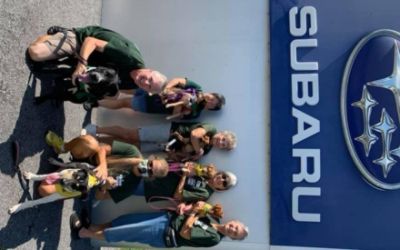 ---
Above and Beyond! - Bill Bryan Subaru - Doreen B
The Animal League is a registered non-profit charity helping homeless dogs and cats and the people who love them for over 30 years. We are a community partner with Bill Bryan Subaru and we can not sing higher praises for their team's commitment to helping not only rescue pets but the people in our community. Joe and the team at Bill Bryan Subaru allow us to hold adoption events at the dealership and often cover the fee to promote pet adoption. Everyone at the dealership is extremely welcoming and friendly. You can tell that they truly care about pets and their customers. You won't find a more genuine team; they really want their customers to be happy and put the effort in to make that happen. We have witnessed it! As Bill Bryan Subaru has chosen us for the annual Share the Love event, we have been able to add roofing to our huge dog play yard at the shelter so the dogs have a shaded area to romp; this is so essential in Florida. We were also able to make major improvements to our New Hope Center, the area of our campus where new homeless pets come in to be seen by our veterinarian and helped both physically and mentally to move forward to new, happier lives. We are extremely grateful to Subaru, Bill Bryan, Joe Goguen and his team for everything they do for animals and people and we are excited to create many more happy pet/people matches in the new year!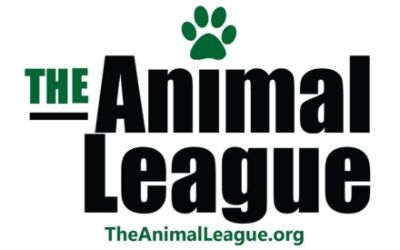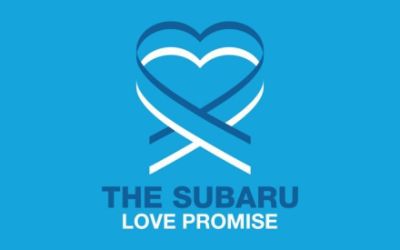 ---